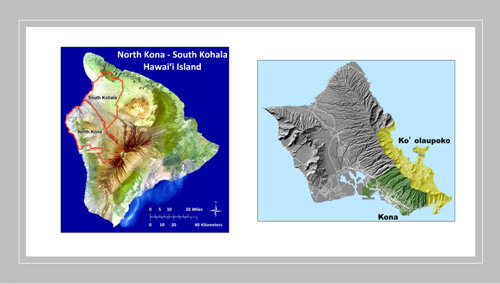 The STEW-MAP Project in Hawai'i was launched in 2017 on Hawai'i Island (North Kona and South Kohala) (left) and began on O'ahu (Kona and Ko'olaupoko) (right) in 2018. The plan is to include all the Hawaiian Islands in phases.
The Stewardship Mapping and Assessment Project (STEW-MAP) aims to better understand stewardship, identify gaps and overlaps, and create resources to strengthen capacity to mālama 'āina or steward the environment. STEW-MAP addresses the questions:
Who are the active groups in my area?
Where, why, and how are they caring for the land?
STEW-MAP collects survey data to create a public, online stewardship database and map of community, civic, and other organizations that mālama 'āina and kai—including those that conserve, restore, manage, monitor, transform, advocate for, engage with, and/or education about the local environment.